2019 Warren County Fair Family Shows
Cowboy Circus with Danny Grant
COWBOY CIRCUS w/ Danny Grant is one of the most interactive & educational Circus, Comedy & Cowboy shows in the entertainment world.
Danny's stage show includes Audience Participation, Comedy Skits, Circus Tricks, Live Music, Cowboy Ropin' and more all packed into a 30 minute performance.
Danny's strolling shows features teaching your fairgoers how-to Trick Rope, Crack A Bullwhip, and even Lasso his horse, "Charlie!"
This is a wonderful show that you, your friends and your family will not want to miss!
Cowboy Circus, Danny Grant will be roaming the fairgrounds daily.
Agri-Puppets
Have you ever wondered what the number one produced crop in the world is? Or how many eggs a hen can lay? Or why bees are so important to the environment? Then let Agri-Puppets answer these questions and more with a fun, family-friendly show!

A unique puppet show that's entertaining for all ages, Agri-Puppets teaches the importance of farming, animals, and agriculture. Professional and dependable, the show features all-new big farm setup premiering in 2017 (40ft wide and 16ft tall) and puppets with life-like animatronic-moving facial features. The star of the show, Boomer, also drives his farm delivery truck all over the fairgrounds talking to people, making this a puppet show and strolling act, all for the price of one!With sing-a-longs, dancing, popping bubbles, hilarious jokes, and more, the puppet helps the audience learn about identifying and naming animals, answers all your farming and agricultural questions, and makes learning exciting for everyone.
Agri-Puppets is the name, fun is the game!
Don't miss this exciting show when in your area. It's fun for the entire family!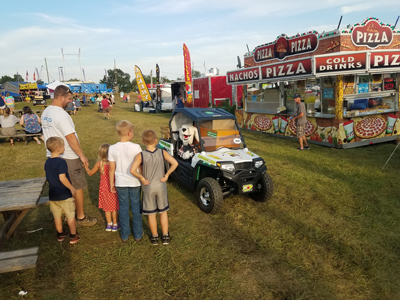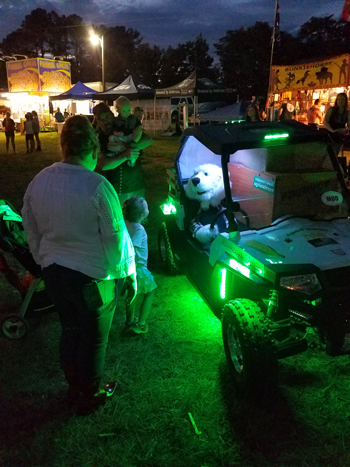 Join the Agri-Puppets fun 3 times daily Tuesday-Friday and 4 times on Saturday!
Hudson Magic Midway
Hudson Magic Midway, a miniature midway replica will mesmorize the senses from it's neon colors to is detailed consturction. Hudson Magic Midway has been touring the country with it's display, and is coming to the Warren County Fair to showcase its latest in midway miniature replicas. To learn more about Hudson Magic Midway, there was a great write up on the Orleans Hub a few years ago.

ALBION – The Sky-Flyer, a new midway ride built in 2014, is a towering attraction in the Hudson Magic Midway, a collection of 40 miniature replicas of midway rides from the 1950s to the most recent innovations in amusement park rides.

Three Albion men – Charlie Zicari, his brother Frank, and their close friend Jay Pahura – will debut the Hudson Magic Midway inside a 40-foot-long semi-truck trailer this Wednesday at the Erie County Fair in Hamburg.

Read More…. Orleans Hub, Years in the making, miniature carnival is ready for big debut, By Tom Rivers
Hudson Magic Midway will be on display on the Fairgrounds throughout the week.