Fair Queen
On Monday night, August 8, 2022 Cassie Dalrymple was crowned the 2022 Warren County Fair Queen with Veronica Ludwick named 1st Runner Up, and Alexis Stec Junior Miss.
Every year young ladies from around Warren County compete for their chance to represent the Warren County Fair as Fair Queen.  Once crowned, they go on to compete for the title of Pennsylvania State Fair Queen.  The experience includes access to practically everything at the Fair, the opportunity to congratulate and present awards around the fairgrounds, meet tons of people, travel around the state, and participate in many promotional experiences for the fair throughout the year.
Fair Queen Contestant Rules
Warren County Fair qualifications are as follows:
1. Must be a U.S. citizen, and a resident of Warren County and have participated in or attended
the Warren County Fair.
2. Must be at least age 16 but no older than 20 years of age by June 1st of present year.
3. Must be single, never married, have no children and must not marry nor get pregnant during her reign.
4. Have parent or guardian's consent.
5. Must complete an application and participate in orientation and judging activities.
6. Prepare a 3-5 minute talent presentation (contestants will be judged on originality, content,
and creativity) and a 2 minute persuasive speech on "Why you should come to my Fair".
7. Judges will interview each contestant.
8. Poise and appearance will be considered.
9. Each contestant will be asked an impromptu question.
10. Must have and demonstrate a personal knowledge of the Warren County Fair and agriculture.
Qualifications for State Fair Queen Contest are as follows:
1. Be female who is a US citizen and a resident of Pennsylvania.
2. Be at least age 16, but no older than 20 years of age as of June 1 of the year entering the local contest.
3. Be certified as the winner by the local fair where she was crowned.
4. Have not been a former local Fair Queen winner, nor a former State Fair Queen contestant.
5. Not hold any other title for any other commodity group or pageant during her reign.
6. Have her parent(s) or guardian(s) consent to enter the competition.
7. Be single, have never been married, have not been pregnant nor given birth to a child.
8. Act in accordance with the PS Fair Queen "Behavior Policy."
9. Meet all time commitments,Queen obligations and Dress Codes as set forth by the PA Fair Queen Program.
Junior Miss
The Warren County Fair was pleased to introduce the Jr. Miss contest in 2018.  Open to Warren County residents
age 12 but no older than 15 years of age by June 1 of present year. Junior Miss contestants will follow the
same judging criteria as the Queen contestants, but without the talent component.  We will crown one lucky
young lady who will have the opportunity to attend Fair Week events alongside the Fair Queen and Alternate.
Princess Program
 Please watch the Warren County PA Fair
Queen Pageant Facebook page in February 2023 for announcements regarding the 2023 Princess Program.
This is NOT a pageant, but an opportunity rather for young girls to get experience working with
the Warren County Fair Queen and Contestants as well as appear on stage during the Fair
Queen Pageant.  
Past Fair Queens/Junior Miss

Click Here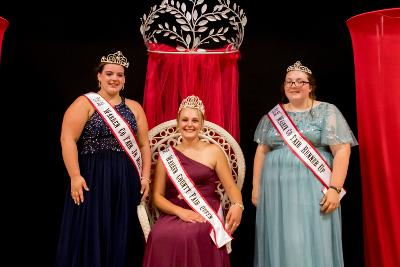 Hannah's Helping Hands was established in 2021, in memory of
our 2019 Warren County Fair Junior Miss Hannah Nickerson,
who lost her life in a house fire. Hannah's Helping Hands has three
main focus areas: Fire Safety, Character Building, and Fair Queen
Contest Support
Please join us every fair week at the Hannah's Helping Hands
booth for demonstrations, fire safety education, and giveaways.
Hannah's Helping Hands on Facebook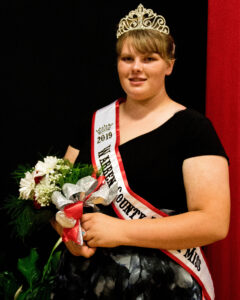 In Memory of Hannah Jo Nickerson
2019 Warren County Fair Junior Miss